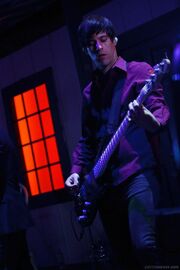 Matt McJunkins is a studio and touring bass player who currently resides in Los Angeles, California. He plays bass in
A Perfect Circle
,
Puscifer
, Ashes Divide and recently 30 Seconds to Mars. He also sings backup vocals in all of these bands and plays some keyboard and guitar for
Puscifer
.
McJunkins began playing bass when he was 13-years old. His older brother was a drummer and convinced him to pick up the bass guitar. He went on to play in his high school marching and concert band. After graduating high school, he went on to study at the world renowned Musician's Institute in Los Angeles. This led him to begin taking gigs all over LA for many genres of music.
Ad blocker interference detected!
Wikia is a free-to-use site that makes money from advertising. We have a modified experience for viewers using ad blockers

Wikia is not accessible if you've made further modifications. Remove the custom ad blocker rule(s) and the page will load as expected.