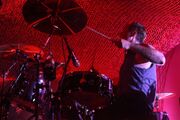 Josh Freese (born December 25, 1972) is an American session drummer and songwriter. He is a permanent member of
A Perfect Circle
, The Vandals, and Devo, having formerly played drums for Nine Inch Nails from late 2005 until late 2008, and for Guns N' Roses from mid-1998 to 2001. Freese has appeared on close to 400 records.
He has drummed for A Perfect Circle since their first album, and is considered one of the core members.
Ad blocker interference detected!
Wikia is a free-to-use site that makes money from advertising. We have a modified experience for viewers using ad blockers

Wikia is not accessible if you've made further modifications. Remove the custom ad blocker rule(s) and the page will load as expected.