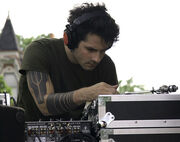 Josh Eustis
is a musician and a member of Telefon Tel Aviv. Telefon Tel Aviv is a New Orleans, Louisiana-derived, Chicago, Illinois-based American electronic music act. Formerly comprising Charles Cooper and Joshua Eustis, Telefon Tel Aviv continues with Eustis as the sole official member since Cooper's death in 2009.
Josh played a large role in the creation of A Perfect Circle's aMOTION. He is also touring member of Puscifer.
Ad blocker interference detected!
Wikia is a free-to-use site that makes money from advertising. We have a modified experience for viewers using ad blockers

Wikia is not accessible if you've made further modifications. Remove the custom ad blocker rule(s) and the page will load as expected.