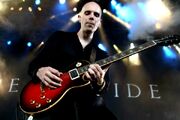 Billy Howerdel (born May 18, 1970) is the founding member, guitarist, songwriter, and producer for the bands A Perfect Circle and Ashes Divide. He has recorded three acclaimed studio albums with the former, and in 2008, Ashes Divide released their debut album, Keep Telling Myself It's Alright.
Ad blocker interference detected!
Wikia is a free-to-use site that makes money from advertising. We have a modified experience for viewers using ad blockers

Wikia is not accessible if you've made further modifications. Remove the custom ad blocker rule(s) and the page will load as expected.